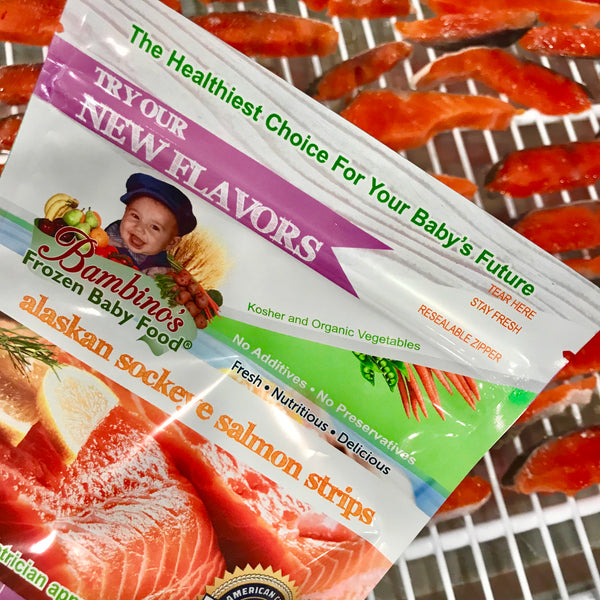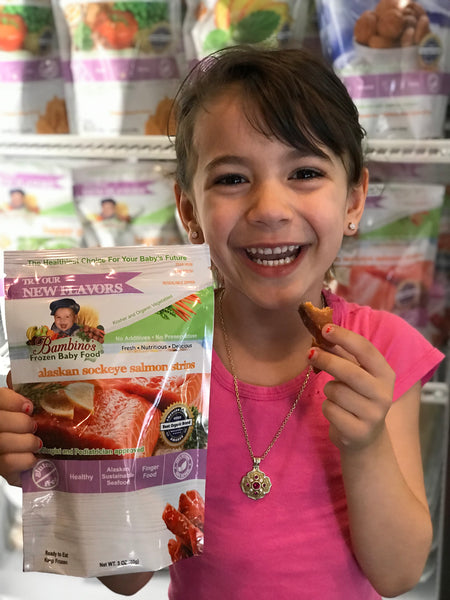 Alaskan Sockeye Salmon Strips Bambino's New Product
Bambino's Alaskan Sockeye Salmon Strips
Omega Rich Healthy Anytime Snack
Alaskan Sockeye Salmon Strips come in a convenient stand-up, re-sealable pouch with six to eight full-length sliced salmon strips that fit perfectly in little hands. The salmon strips are firm, making it easy for little ones with and without teeth, to enjoy. This healthy Bambino's snack offers high-quality protein. The strips are also a key source of marine omega-3 fatty acids (DHA and EPA) and are naturally high in many essential vitamins and minerals including vitamins A, B-12, D, and E.
Ingredients: Alaskan Wild Caught Sustainable Salmon, Maroudas 1st cold fresh extra virgin organic olive oil a dash of sun-dried sea salt and a sprinkle of natural raw organic sugar.
With this order, you receive 6, 4.5oz pouches
About Our Process 
Our Alaskan wild-caught sockeye salmon is harvested responsibly by our community of hard-working fishermen and women. The freshly caught salmon is brought to our Bambinos facility, where we begin immediately slicing, and baking this tender treats to perfection.
Our Inspiration
Our Alaskan Sockeye Salmon Strips are inspired by beautiful, long-standing Alaskan indigenous traditions and the Mediterranean diet, to help soothe teething and provide essential omegas needed for infant brain health development.
Healthy Snack for Mom and Baby
Bambino's Alaskan Sockeye Salmon Strips offers many important nutrients for mothers and babies such as selenium and iodine. Moms who breastfeed are often iodine deficient and the salmon strips are a perfect healthy and easy snack. Both Iodine and Selenium are one of the most important minerals for developing a healthy thyroid for babies which regulates growth, muscle, and nerve functions.