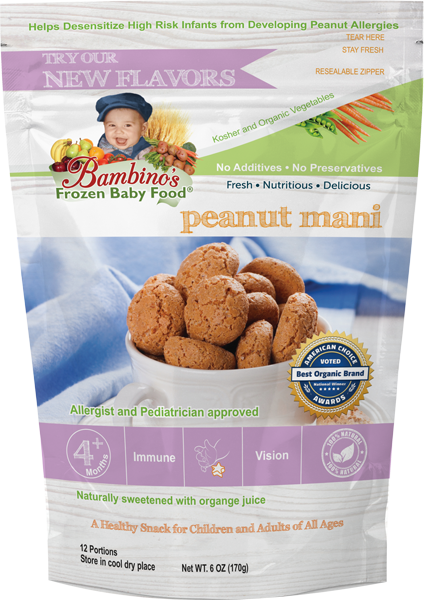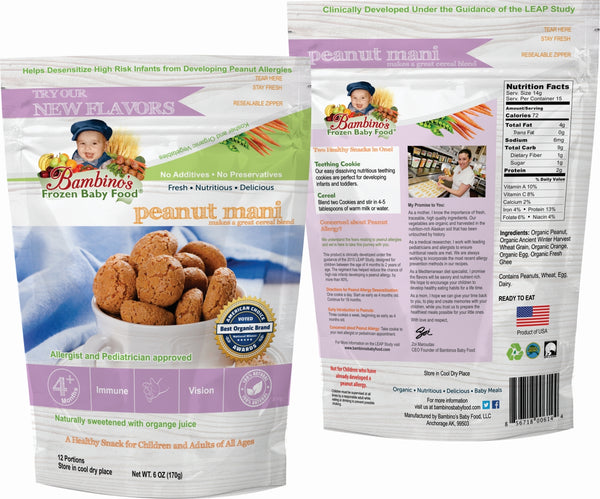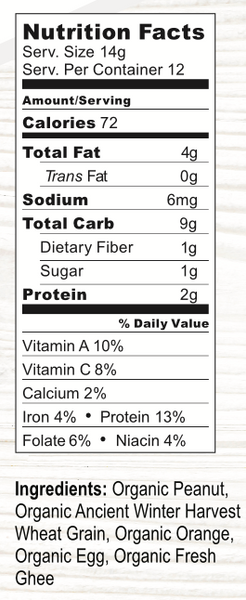 Peanut Mani: Peanut Prevention cookie or cereal - per case
The only cookie developed to desensitize against peanut allergy.
In February 2015 the New England Journal of Medicine published the first article on how to prevent high risk infants from the dreaded  peanut allergy called the LEAP study. Founder and CEO Zoi Maroudas together with the support of allergist developed a recipe specifically designed to help prevent infants from developing the peanut allergy naturally.  The Peanut Mani cookie has the exact amount of natural peanut protein, give daily will help desensitize infants from ever developing the peanut allergy with a success rate of 85%.
In 2015 and 2016 our Founder presented the Peanut Mani cookie/cereal to the American Allergy Foundation conference. With an overwhelming response among allergist and pediatricians the Peanut Mani can now be found in many allergists office around the nation.  
The cookie is specifically designed for little ones as early as four months.
How do I use it?
For infants 4-8 months, crush cookie and mix into breast milk or formula for cereal like texture. 
Your bambino may be ready to snack on their own when:
Grasps when cookie is presented

Can sit upright and hold up head

Has mastered tongue movement
The flavor is absolutely delightful and full of the natural nutrients excellent as a nutritious snack. 
What is in it?
This cookie contains organic peanuts, organic ancient winter harvest wheat, organic oranges, organic eggs and organic ghee.
Where is this made?
This 100% organic meal is handcrafted by a small, mother-owned company in Alaska. Our veggies are grown on a family farm with nutrient-rich glacier water in the untainted soils of Palmer, Alaska and we make our own ghee (clarified butter) from fresh organic milk.
What is included?
One month's supply in 6 resealable packages. Each package contains 12 cookies.
Who is this for?
Peanut Mani Cookies are nutritionist- and allergist-approved for bambinos 4 months and up.
Consume within 3 months of online purchase. Keep in cool, dry area.
Consume within one week of opening. Reseal package to keep fresh. Store in dry area at room temperature to prevent moisture build up in pouch.
---